GREERTON MARIST
RUGBY CLUB

sam guest - powerlifting
About
Aged 16, I currently compete as a Sub-Junior (U-19) lifter within the U-83kg category. I began lifting when I joined Fitco in March 2015, following a background in Crossfit from my early teens. I developed a love for powerlifting and have greatly grown in strength over the last 2 years.
Now training 6-7 times per week, my bench press is largely unrivalled across New Zealand and I am working hard to improve my other two lifts (Squat and Deadlift). Despite my heavy training schedule, I focus hard on school work, after finishing second in my year in 2016. I also have two jobs, working checkouts and as a tutor to save funds for future international competitions.
I am aspiring to represent my country at the end of 2017 at Oceania Championships or later in 2018. At only 16 years of age, I am one of the youngest competitors in the sport. This means I can focus on growing in ability to challenge the very top competitors in a few years.Currently, I have competed in 2 competitions at regoinal level, winning both my age and weight category in both.
My greatest goals are to eventually hold the NZ IPF Bench Press record at Sub-J U-83 and U-93 and compete internationally in 2017.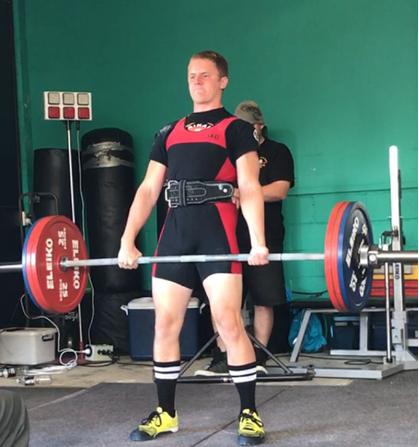 achievements
- 1st Sub-J WaiBop Icebreaker Comp, Feb 2017 (145 squat, 122.5 bench, 160 deadlift)
- 1st Sub-UJ WaiBop Regional Powerlifting Championships, Apr 2017 (152 squat, 130 bench, 170 deadlift)
- Sellars Cup for Most Promosing Lifter, WaiBop Championships, Apr 2017
GOALS
- Top 3 Sub-Jnr @NZ National Powerlifting Championships, Aug 2017
- 2017, or 2018 NZ Powerlifting team - to compete at the Oceania Championships (Dec 2017) and Sub-Jnr World Championships 2018.
- NZ Sub-J U/83 Bench Press Record (145kg)
- Reach a 540kg+ Total by the end of 2017 (180 squat, 145 bench, 220 deadlift)
- Win Sub-J U-83/U-93kg Category at Oceania Championships 2018

tauranga girls college
rowing club
past sponsorships:
- 2016 BAY OF PLENTY STEAMERS
​- BROOKLYN STOREY (TAEKWONDO)
- DANIEL TUIRAVIRAVI (KAYAKING)
- CARMEN SIMONSSON (BODYBUILDING)